Working with Jill for the last 6 months I have learned skills to help me navigate the ups and downs of life. Things are going to happen, Jill can help you be in the mindset where they don't have to knock you down. She has been through life's trials, and came out with a determination to help others achieve success.
We brought our Daughter to see Jill after she had a traumatic event while she was away at College in another state. The event was very serious and our daughter was not in a good place mentally or physically so much so that we moved her back into our home here. A family friend referred me to Jill, and after we described the nature of our daughters problem, she wanted to meet with her and agree to work with her. Our daughter has been to counseling in the past, in the traditional sense, this time though we wanted to have her work with Jill because her approach was based more in life skills training and personalized healing approaches that we thought would be a nice complement to past therapy that our daughter had received. We also liked that Jill showed us her ability to interact with our daughter right where our daughter was at, that our daughter felt heard and understood.
From the first session with Jill, I could see a change in our daughters' demeanor. She began to come out of her protective shell and interact with us. Our daughter started to get her confidence back and within a few sessions she was moving away from her pain and towards some goals that she had set for herself. I know it wasn't easy for our daughter at all, and Jill helped me understand her much better so that I felt more at ease that I understood what was happening. I think it's remarkable that Jill was able to communicate with our daughter in a way that would relieve tension in her and for us. I'm proud to say that our daughter is going back to school and is living on her own and has taken back control of her life. We're very grateful to Jill for being there at a very critical time in our daughter's life!
Thank you Jill,
I have worked closely with Jill for more than 5 years and she has been an asset in my life. Jill has guided me through personal and professional issues, with solutions that have helped me have much healthier and positive relationships. Her advice in parenting solutions have brought me closer with my daughters and I am so thankful for that.
Jill has taught me how to reduce stress, remove my "blocks" and improve my career and build my self-esteem.
I had Jill Larson come and speak to my students during the great american teach in. She did an amazing job with them. She helped my students to get into a positive head space before taking a huge exam. Her talk was so good that I decided to see her on my own. I would highly recommend her and her practice.
"Thank you for talking to us! I appreciate you talking so positively to us." – Ashley
"Thank you for the motivation!" – Jason
"Thanks for taking the time to speak to us." – Taylor
"The speech you gave was inspirational and insightful!" – Stephen
"Thank you, for coming to talk to us, it was amazing. I feel so much better about the outlook on future tests." – Jessica
"Thank you for presenting. It was insightful!" – Gina
"Thank you for taking the time to come and speak to us." – Julie
I am a dentist in Sarasota, and I am so much more effective thanks to Jill! I am extremely busy running my own practice and balancing my family life. Jill is super positive, knowledgeable, calm, efficient, experienced at coaching, professional, and such a delight to talk to. I was so relaxed and felt restored with her Reiki therapies. Her certifications with The Life Purpose Institute, Business & Leadership, and the International Center for Reiki have trained her well and she has all the tools to be a superb Life and Business Coach. She is a gem and is my guiding angel. I thank God and Jill for coaching me and transforming my Life to be more positive, fulfilling, and rewarding!
I had been "stuck" in a block for several years and was going to a therapist trying to get my life back in order and find the peace and joy I so longed to feel and have again. I was referred to Larson for a massage and thought why not. I had an amazing experience and was asked if I would like a free consult with Jill regarding her Life Coaching. Not knowing anything about it or what to expect, I thought "why not!" so I set up the phone call and had a wonderful conversation with Jill! I knew right then that I needed Jill as my life coach. Over the first couple of sessions, and working through the workbook, I am finally feeling peace and joy in my life and truly feel like I'm making positive changes in my life. My friends and family have noticed a significant change as well. It has helped me so much that I have referred several people to Jill, as I believe in her!   
Thank you Jill
It is obvious that both Jill and Eric are passionate about what they do, and their staff radiates that level of care and compassion as well. My treatment encompassed physical, mental, emotional and spiritual healing that was long overdue and greatly appreciated. I will take what I have learned from the Larsons and continue to better my life and the lives of others around me. I can't wait to come back for more! Whatever you do, make Larson Natural Health Center and Positive Solutions for Success part of your routine.
They say what will happen and it happens, they keep their word! actions happen here I FEEL GREAT! thank you EL and JL you have shown me to continue to be my BEST!
I love this program Total Wellness. I am currently going through the program with my husband and teenaged daughter via Zoom. This program has helped me so much to set a plan and action steps to improve myself and my family that I wanted to share it with my loved ones so we can move forward and problem solve as a team for a more prosperous and balanced future.
I am proud to be a part of Jill and Eric's vision for Total Wellness. Having met many people who are benefiting from Jill and Eric's Action Steps, I can see the positive affect it has on them. I have had private sessions with Jill and she has shown me how to actively make positive changes in all aspects of my wellness. I have known Jill and Eric for several years and I feel truly blessed to have them in my life.
I am currently loving Jill's Positive Solutions for Success program. Her no nonsense suggestions, personal stories and sense of humor make it very easy to incorporate action steps in my life. I find myself feeling more positive and thinking about what I can do to be more productive already. Thanks Jill!
Jill, your workshop has helped me so much! I've been able to refocus all of my negative energy. This last week I've surpassed the bonus I told you about and hit the one above that! I can't wait for our next Zoom meeting on Tuesday!
Jill's coaching is helpful, driven and individualized. We met with Jill to discuss our very active son's behavior. Jill was organized, professional, empathetic and patient. I felt she empowered our son; and reassured us, by focusing on his strengths. Jill gave us a simple and practical action plan that we could put immediately in to place. Her suggestion to use "pre-framing" has proved to be a necessity and a success when dealing with our son's behavior. Jill has enriched our relationship with our son. Thank you Jill!
Her training with the Life Purpose Institute is extensive and that becomes apparent right from the start, and she understands the difference between being a life coach and being a counselor. Our sessions always focus on ways I can move forward towards the goals I am setting for myself so I live the life I want to be living.
I had a major stroke two years ago. Life coaching with Jill Larson has helped me find a positive outlook on my life and everything is much better now. I am so thankful for everything Jill has taught me!
It has been a joy working with Jill Larson at Larson Natural Health Center and Positive Solutions for Success for two years now. The sessions I have had with her have taught me how to organize my mind in order to help me to better navigate my life and achieve my goals. My overall wellness has improved tremendously with Jill's help. I can't thank her enough.
I signed up for some sessions with Jill because I was feeling stuck in some negative thinking and stuck in some patterns that were hurting my health and happiness. Being in the negative funk, I didn't think the sessions would help much but I thought I would give it a try. Well, I was wrong! Jill had some solid, positive advise that proved very helpful! She actually offered lots of solid advise tidbits (which I have implemented). I actually asked her where she came up with all these suggestions (did she have a book or something?). Jill mentioned that she has been doing this for quite some time and she has lots of books as well as personal experience -lol.
I would recommend working with Jill if you want to make improvements in an area in your life. The sessions I've done have helped me to turn around negative thinking and make some good, positive changes in my life!
Jill did a Reiki session with me and I could feel the change in energy immediately. I was able to enter into a meditative state and had an emotional release about half way through the session. I was so relaxed when I left, and I felt like a weight was lifted off my shoulders. I went home and rested the rest of the afternoon. I felt a little spacey throughout the rest of the day but, I slept great that night. I woke up refreshed and full of energy. This was an amazing experience for me and I recommend giving it a try. You will not regret it, I cannot wait for my next session with Jill.
After my husband died, Jill Larson at Positive Solutions for Success was invaluable to me. During this traumatic time Jill's guidance pointed me in the right direction, as I was overwhelmed by so many decisions especially financially. I will always be grateful and I will not hesitate to reach out to her again in the future.
Thank you so much for today's session. It really helped me a lot. And I appreciate that you took the time to listen to what is going on in my life right now and provide suggestions and things to think about.
My experience with Positive Solutions for Success has been an absolute game-changer for me. I hadn't realized how little I knew about my own Financial Health. Within the first two months I was able to recoup the entire cost of the program, and now I feel much more in control of my future! Jill and the team at PSFS really embrace the "Positive Lifestyle" they teach. I felt inspired, empowered, and motivated to take ACTION STEPS toward my best life (and not just talk about it!). The workbook and weekly sessions are the best combination for setting goals and personal accountability. I will be forever grateful for learning about this program and improving all areas of my life! Total Wellness= Health, Wealth, and Positive Relationships!!
Prior to working with Positive Solutions for Success, I was feeling lost after graduating college and having little to no success finding a job. My sessions with PSS allowed me to focus in on my career path and to be more proactive about my job search. Prior to my sessions, I never really thought about what it was that drew me to my profession or what kind of professional I wanted to be. I now feel much more confident about my career path and my future in general going forward. I even have two interviews coming up thanks to my sessions with PSfS!
I needed emotional help and some physical help
I then met Jill Larson and her husband Eric Larson.
They own Larson Natural Health in Sarasota.
Jill is a professional life coach and also a Reiki Master.
Both of which I took advantage of.
Eric is a Chiropractor of excellent standing.
I would highly recommend them!
I recommend PSFS to anyone who has a block mind or cluttered mind, anyone who is dealing with negativity or feel like they have someone who is negative around them. As a massage therapist I sometimes pick up on some of my clients' negativity and this class is helping me redirect that negativity by meditating in between sessions. Positive Solutions for Success can break you out of that negative state of mind or the feeling. It can really give you a clear state of mind and comfort.
Jill Larson at Positive Solutions for Success has been an absolute game changer for me. I feel as though she was literally sent to me, at a time I needed her most, to re-direct my entire life. That's exactly what happened. I was able to get out of a mental slump I had noticed myself going down, and her coaching was done in such a way, that made me want to take every single suggestion that was made. Maybe it was the pain, maybe it was Jill. I think it was both, and I'm forever in debt to her. Thank you so much Jill, for everything! I hope to have the honor of working with you again soon!!
Sofjia's Testimonial - Remote via ZOOM, June 2020
Hoosac School, Hoosick Falls NY – Leadership, Life Skills and Career Counseling Class
Book "Positive Solutions for Success", and Coach Jill Larson drastically changed the way I look at life and think. The program guided me how to live a stable and quality life, which is based on health, wellness, wealth and relationships. Every topic (term) has many subtopics that explains it minutely. What is interesting about all of those terms is that no matter how different and independent we think they are, we cannot live quality life without any of those. With Coach's teaching and experience it helped me realize it.
Until the sessions with Mrs. Larson I didn't realize how much I was aggravating myself. I was so blocked that I didn't even realized those were blocks. She helped me realize that things aren't unsolvable as I imagined them in my head. Taking ACTION STEPS I understood how to deal with my life, how to aim negative thoughts, love myself and others.
Besides my own problems and blocks I got to know how to take care of my finances, which was a nightmare for me. Mrs. Larson insisted on writing everything down, having a journal, and being overall organized. Those action steps and organization skills were the key for succeeding my fears. Nonetheless, for me, the most important is that I learned I should never be scared out of something new, it only gives me more unnecessary blocks.
This twelve hours course made me aware that the time, which is given to us, is precious. We should always work on ourselves and respect each other. Most importantly what I learned is that we are doing all of this so we can ENJOY our life, and prevent ourselves from being a prisoner in our own life.
Brent's Testimonial - Remote via ZOOM, June 2020
Hoosac School, Hoosick Falls NY – Leadership, Life Skills and Career Counseling Class
I've learned a lot through this program. I benefit a lot from the way I think, the way I do things, and the way I treat others. I began to make a new plan for my life. I also implemented this plan, and I found it to be of great help to my life.
The biggest improvement for me was the section on health and wellness. Before the course started, my mental wellness had a big problem… This course and Mrs. Larson gave me a suggestion. If I feel angry, depressed, or anxious, I can ask myself: "What should I do to improve this situation?" Then just do that. After that, I started to calm down. I understand that there are always opportunities….
I am very grateful to Mrs. Larson and Positive Solutions for Success program.
Another section that helped me a lot is the meditation section. Before that, I didn't have an exact concept of meditation, let alone meditation. So I don't think it will help me much. Before this section began, Mrs. Larson sent us a video to help us meditate. And during the class, Mrs. Larson showed us the specific way to meditation. After this time, I discovered the benefits of meditation. In fact, meditation has many benefits. Meditation is enlightening. This practice of meditation is an exercise that constantly pulls our hearts back to the present. Ten minutes of meditation you have to deal with thousands of thoughts. So, meditation will subtly improve our concentration. Some buddies have improved their listening and learning efficiency through meditation. This practice also improves your ability to perceive, and you will find your impulsive emotions in the face of things, which is not easy to be emotional. Once I was angry and angry, I couldn't detect it, and I regretted it when I was angry. And now I sometimes find that I already want to speak up against others. At this time, I will stop, think about the reason, and adopt a reasonable treatment.
Another thing I learned is leadership. The most important thing I have learned is leadership. First of all, if you want to lead others, you must learn to respect yourself and respect others. Only by learning to respect can we better develop our leadership abilities. Another point is that we must learn to impose strict requirements on ourselves first, and then ask others.
Overall, this program has helped me a lot, whether it is in terms of physical health or life or my leadership skills. Thank you very much Mrs. Larson and his team for bringing us such a good Program!
Fernando's Testimonial - Remote via ZOOM, June 2020
Hoosac School, Hoosick Falls NY – Leadership, Life Skills and Career Counseling Class
The thing that I liked most about the classes was not a specific thing but the fact that I understood myself much better.
The way that and methods to understand myself emotionally better, things that can keep myself in the track of my objectives. I figured out that being a leader is not just knowing how to tell people to do whatever they are supposed to do, to be a good leader to other people first you have to be a good leader to yourself.
Another thing that I would like to keep in my life from now on are things like paying more attention to what benefits the food that I'm eating in bringing to me, what I'm learning from the TV shows that I'm watching, basically paying attention and choosing what is good for me and what is bad better, understanding that every human need a break from learning the entire day but in need to conscious about it, because nowadays we are very exposed to crap all the time.
Concluding that program gave an extra view about myself as a person and leader and I really that there are a lot of things that I can improve on in my daily routine for the better. I fell lot more confident to start my daily routine as a prefect and think is going to be a good thing.
Chuer's Testimonial - Remote via ZOOM, June 2020
Hoosac School, Hoosick Falls NY – Leadership, Life Skills and Career Counseling Class
I am very happy to give my feedback on this course here. At the end of this semester, I was lucky to be the perfect candidate for the next semester, and after being elected, the principal signed us up for a very meaningful course. This course is not very academic and difficult to understand. On the contrary, it is a course of life significance. It teaches you how to have a healthy self, in all aspects of health, psychology, physiology, and healthy ideas and so on, so that we can have a better and happy life. This whole course means more to me than that. It's not just about teaching you the way to a successful life. It also raises my opinions on many problems. When I have my own opinions, I will stay after class and tell all of my thoughts on the course, my notes, along with my own thoughts on the notes which are out of the course, and even the thoughts of ideas. I like this feeling of "start thinking" very much. I still remember that it seems that in the third class, I took a lot of notes. Of course, most of them are not notes, but my inner point of view and ideas. I stayed after class; Mrs. Larson is still there, too (she always stays after class for us to ask questions). At that time, she listened to my notes and ideas and also thought about the notes. She respects my ideas very much (which makes me happy). I told her all my ideas. She would tell me what my ideas are worth agreeing with or what can be reconsidered. I like to have someone help me with my ideas, and I like to hear suggestions from others, all of things are what Mrs. Larson did for me. I would always like to thank those who gave me advice, at this point I would like to thanks to Mrs. Larson.
I have not only gained the knowledge of health, physical and mental maintenance in a positive way, but also the advice of how to be a successful person, as well as my own ideas and a very excellent teacher.
Minqi's Testimonial - Remote via ZOOM, June 2020
Hoosac School, Hoosick Falls NY – Leadership, Life Skills and Career Counseling Class
When I knew I was selected to be a prefect, I was really excited. I prepared a lot and made a daily schedule to improve myself. Take one typical example of myself, keep smiling to my life whatever it brings me. As we all know, it is a 'easier said than done' thing. I always told myself 'the worst I have been experienced will be the best lesson for better me'. When I think it is the worst, then I will not give up toward everything, because I already face the worst. It is interesting to mention a point in the book 'How to Win Friends and Influence People'. The one the impressed me the most is Karel. His experience and formula did inspire me a lot. 'Only by forcing ourselves to face the worst situation and accepting it mentally first will be in a position where we can concentrate on solving problems. So that is one example of how I solve problems or how problems will affect me.
After I have the lessons with Ms. Larson, I do learn from her and reflect on myself. Everything that happened might not be without a reason. We can use our planner to make adequate preparations and consider more widely. For example, when we plan to do something with others, we might get ready earlier to avoid some accidental things happening. And also, I develop a habit to make a self-reflection every night before I go to bed. I would lie on my bed, think about what I did in the whole day and what should I improve.
Through these two weeks, I can strongly feel I learn a lot and my daily life is full. My work efficiency is higher. I take my time accurately to follow my planner. Also I am more clearer in my direction and pursuit for my future.
Pedro's Testimonial - Remote via ZOOM, June 2020
Hoosac School, Hoosick Falls NY – Leadership, Life Skills and Career Counseling Class
When I first heard from Mr. Foster that we would be given a "life course", I was really excited because I thought I would be able to improve my leadership skills as a prefect. However, as I learned with Jill, this course is not only about a specific activity or challenge to overcome; it is about the whole set of skills necessary to succeed in life; which made me much more excited as we advanced in the reading. One of the many important subjects treated in the course is about putting things in the big perspective; that is, giving importance to anything according to its relevance in life. Putting things in context (another name for it) helps me create a plan, a process to things, and, therefore, patience. I have come to realize that the many times I felt anxious in my life were because I ran out of patience; phrases like: "I should be better", "I am late" or "it is a too long road for me" are examples of thoughts that came when I started to compare myself to others; leading to this lake of patience and motivation. But it is through mini meditations and a little bit of success on each activity that I have learned how to not compare and keep myself active and intense. 2 This is one important example of an area that I have improved in my life after scratching the surface of the learnings the course offers; it is extremely important that now we, as students and teachers and as lifelong learners, keep our evolution towards a mindful and positive way of approaching any new or old activity or challenge.
Gabriela's Testimonial - Remote via ZOOM, June 2020
Hoosac School, Hoosick Falls NY – Leadership, Life Skills and Career Counseling Class
I think these classes were really important and not only for prefects because everybody should learn how to be a leader, these skills are important for life, for our jobs in the future, for helping others.
About this course… I like it very much and I think this is going to help me during my whole life, and not only for being a leader but also for being organized, helpful, calm, proactive, responsible and how to have a good relationship with others.
I learned a lot how to stay calm in a stressful situation, how to control our feelings and to do something to help me when I need help and other situations that we are going to have during our lives. Sometimes when we have a really hard situation, we have to take a time to think before doing something wrong and we cannot say that we do not know how to continue or that we are not capable of doing it.
Another thing that I think is good to say is that it was very clear when Ms. Larson explained something to us, it was very understandable. She gives us a lot of examples to understand better.
Of course, we have to live some situations to get what Ms. Larson said because we are not changing as fast as we want. Sometimes we will get this maturity when we become adults because now we are so young.
I am a very incisive person so talking about jobs was very good for me, very helpful also because I do not know about what am I going to do in my future and this is going to help me a lot.
Now we have information to pass around and this also can help other people with any disease or stress or something like that.
Dominic's Testimonial - Remote via ZOOM, June 2020
Hoosac School, Hoosick Falls NY – Leadership, Life Skills and Career Counseling Class
In my experience with the Positive Solutions for Success program, I read and learned about how to live a positive lifestyle, manage finances, plan for the future, create a job resume, how to find the career that fits me, and how to maintain a positive relationship. Although, through all of those topics, we had homework for them. We were responsible to first, get a planner and write our daily schedule in it. Then we were told to complete sections of the book for homework, in the start of summertime. Doing schoolwork more than needed has always been something that bored me. However, Mrs. Larson explained to me how this is not homework to get an A in a class, rather a way to improve myself and get an A in life. I completely invested my time into the program and learned many ways to be a successful leader and person. I would definitely recommend this program to anyone looking to better themselves, physically, financially, and positively. It helped me to become more open to communication, and to be more organized and be excited about it. The planner has been a lifesaver and I have only had it for 2 weeks. I write down holidays, birthdays, special occasions, and scheduled appointments in there. Utilizing a daily planner has allowed me to become more independent of myself. I now schedule my own appointments and hockey lessons. I make plans with friends with ample amounts of time that suits both of us. The planner has really helped to organize my lifestyle, even more than it already is. Another very important tool I learned from this class is how to calm myself down during nerve-inducing events. I have been able to take 5 minutes to meditate and calm myself down before meetings with my boss, and even before oral surgery. Also, the financial skills I have learned in the class will help me to become more financially independent. I can now earn, save, invest, and spend wisely and correctly to help me make the most money I possibly can. The Positive Solutions for Success course has made me a man among boys in the world we live in today. I recommend this class to anyone that is looking to better themselves in any aspect of life, because this program will definitely help you with it. I plan to further the process of positive solutions for success throughout my entire life, as the next steps in the program are to reread and live the principles. The program truly allowed me to make my assets known to myself, this not only helped with my self-confidence in the workplace, but also the ability to utilize those acknowledged abilities in day to day life. I cannot demonstrate enough gratitude to show how appreciative I am of this marvelous program. All I can do is hope to see Mrs. Larson in person someday, to truly thank her properly for changing my life.
Ashley's Testimonial - Remote via ZOOM, June 2020
Hoosac School, Hoosick Falls NY – Leadership, Life Skills and Career Counseling Class
When I first received an email from Mrs. Klein and Mr. Foster about taking a leadership class, I honestly was not too excited. I had a closed off mindset about the class before it even began. However as soon as I joined class Monday, June 1st, it all changed. 
This class has opened my eyes to so many little things about myself that I can improve in order to have a better and fuller life.  Before I started this class, I often told people "I know, I know" and never opened up to hear what they were trying to tell me. Now I try my best to never say "I know" and listen to everything they are explaining.  I have found that it helps my relationships with others because I used to be the "know it all". This class has helped my relationships with my peers immensely. I have learned how to negotiate and resolve conflicts in a way that is healthy for all who are involved. I learned how to ask and receive feedback from others, and how to apply the criticisms in order to better myself which has not only helped me as a person, but also as an athlete.
Not only has this class helped me with my relationships but after taking this class, I have seen numerous improvements within myself. I have been able to build up my self-confidence, my mental wellness, physical wellness, emotional wellness, and spiritual wellness thanks to all of the tips and action steps I was given in class. This is the best I have felt about myself in a long time, and it all started with a change of my mindset. 
Overall, I would say that the most helpful thing about this class was the connection Mrs. Larson had with every one of us. She always made it known that she was there to help us or answer any questions we had not just about class, but life in general. Another helpful thing that I took away from this class was the importance of getting a planner. If Mrs. Larson had not told me to get a planner for this class, my schedule would be a complete mess. However, now that I have it I have never been so organized with my days, and it keeps me less stressed throughout the day. It's hard to pick out certain things that were helpful that I took away from this class because honestly, I found every little aspect to be helpful in its own way.
Sofia's Testimonial - Remote via ZOOM, June 2020
Hoosac School, Hoosick Falls NY – Leadership, Life Skills and Career Counseling Class
The Leadership and Life Skills course provided by Positive Solutions for Success has taught me many new things, and I definitely will use them in my life for now on. It is hard to choose only one thing I liked the most from the entire course experience, but the idea of taking care of your mental, spiritual, and physical health really opened my mind. Throughout the course, I learned how to be more organized, and to manage my time better what, without a doubt, makes me not only a better leader but also a better human. It makes me less stressed, more efficient, and it also makes me achieve more successful outcomes.
Besides, the entire idea of health and wellness, how to have a better lifestyle to manage your positive and negative feelings were important reminders for me. I always had problems with my self-confidence, and the skills that I learned regarding that, as celebrating my accomplishments and understanding myself better are already being effective in my life. I also loved to know more about meditation and the effects it has on our daily life. The meditation assigned to us was a great way to understand better the entire concept of involved on it. I did it with my family, and it had positive impacts on all of us.
Another point that was very interesting to me was the negotiation skills. I learned that the idea of negotiation being something big, only restricted to important situations, is not very accurate. I realized that "negotiation" itself is present daily, in small activities that we do in our own homes, I also learned that those skills can improve even relationships. The entire idea of financial wellness, S.M.A.R.T. Goals, looking for opportunities, and
visualization exercises also had positive impacts on my life, and I look forward to using them daily.
In conclusion, the course was more than a positive experience for me, and I am very thankful for the opportunity. I can assure that Positive Solutions for Succes made an impact on my life and that I look forward to seeing what is coming next with everything that I learned in the past two weeks!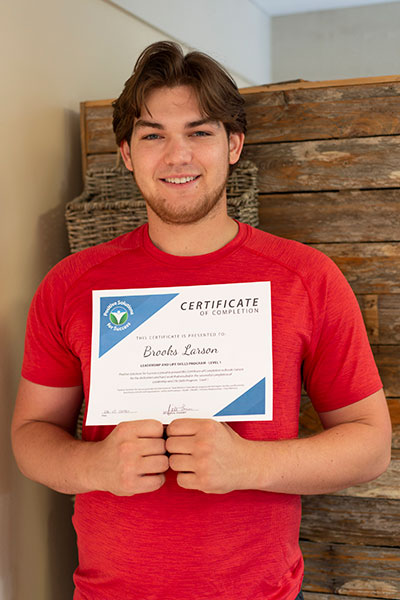 Testimonials / Reviews
Thank you for choosing Larson Natural Health Center & Positive Solutions for Success. We hope that you have received many benefits from your experience, and we are looking forward to your next transformation.
Please consider following Jill Larson's Positive Solutions for Success on Facebook and Instagram by clicking on the links below. When you join us on social media you will anchor your success and you will become a member of our wellness community. When you "share" our posts, and write reviews on GOOGLE & YELP, you are helping others find positive solutions to their challenges.
Together we can inspire others to improve their health, wealth and relationships.
Go To these links:
– Positive Solutions for Success on Facebook
– @PositiveSolutionsWithJill on Instagram
Click on these links:
– Rate us on Google! AND
– Rate us on Yelp!
Thank you!
Video Reviews
How to Share your Story to Help Others
Congratulations on completing your transformation!
We'd love to share your story on social media, to inspire others to learn about Positive Solutions for Success.
Here's how to create your 1-3 minute video. It's really easy – all you need is a phone, and a desire to help others. We'll finalize the technical details and share it on our YouTube channel: Positive Solutions for Success.
Acceptable file formats are .mp4, .3gp, .mov, .avi, .wmv, .flv, .mpg. Ideal videos are 1-3 minutes long and you can upload it here:
Ready?
First find a suitable location with good lighting and no distractions in the background. Bright sunshine or dark rooms don't work well.
Hold the camera in a landscape orientation – ideally ask someone to hold it still in front of you. Your head and shoulders should fill most of the screen.
Ensure there's a small gap at the top for the title (we'll add the title and our logo).
Do a practice video to check the sound and ensure there are no background noises.
Remember: you are recording a featured story/testimonial about your transformation.
Please tell your before and after story.
You will find the Pre and Post questionnaire helpful when describing your progress.
Introduce yourself:
Smile!
Hi, I'm Bob and I'm ____ years old…