Teens and Families
For Teens:
Studies show that transitioning from a teenager to an adult that can thrive in this complex world requires more life skills than ever. To get the most from life and to be happy doing it, is not so simple. That's why we created Positive Solutions for Success.
Positive Solutions for Success teaches teenagers how to excel in school and throughout life. We provide interactive, online eLearning workshops to support teens as they transition from childhood to adulthood. Each student will be given a personalized workbook filled with tips, skills and action steps. Our live online classes prepare the youth of today for their unique future filled with achievement, inner strength and problem-solving techniques. Teens will discover what it means to be truly successful and thrive with confidence.
Our life skills program for teens and families teaches families healthy ways to cope with stress and how to overcome anxiety and depression. Students learn how to get ready for their next chapter in life, whether it is college, a new career or just about anything. Our program is extremely unique and groundbreaking in that we address each person's individual needs at the same time as we respect confidentiality.
Our sixty-page interactive workbook is filled out by each family member privately, yet the topics are discussed generally with the beneficial support of our group dynamic. Students can share as little or as much as they want. Regardless of the degree of verbal participation, all families will greatly benefit from learning about Self – Leadership, Life Skills and Total Wellness by attending our online workshop.
Throughout the workshop, families will:
build their self-esteem
strengthen their organizational skills
understand how to live a Positive Lifestyle
create a balanced approach to Total Wellness in all aspects of their life
learn how to be healthy in both their mind and body
feel more joy and gratitude
learn ways to achieve their financial goals
reduce conflicts and improve relationships with family, friends and others
Teens will also be shown the best process for researching career options while removing personal blocks and self – limiting beliefs.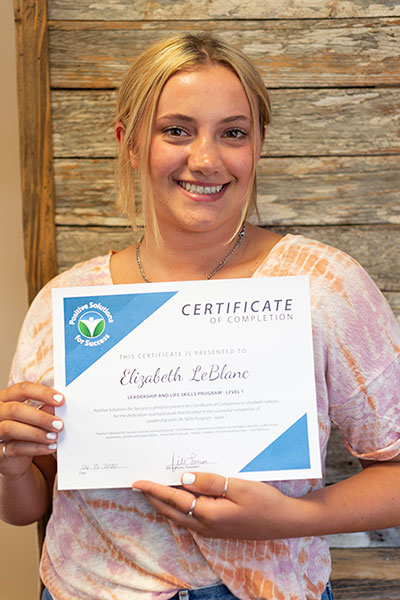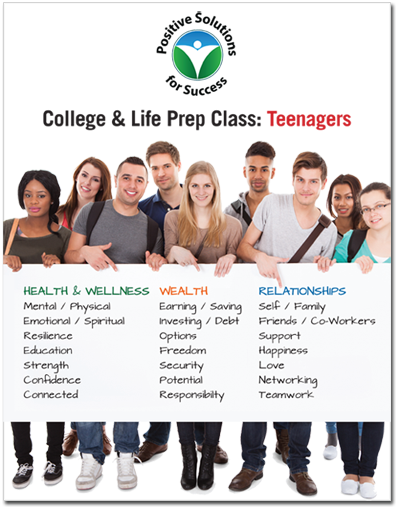 College and Life Prep Class for Teenagers
When college students are taught how navigate the stressful challenges of transitioning from childhood into adulthood, they will feel more empowered and prepared.
Here's the topics that we will cover in our 12-hour, 8-week online interactive workshop.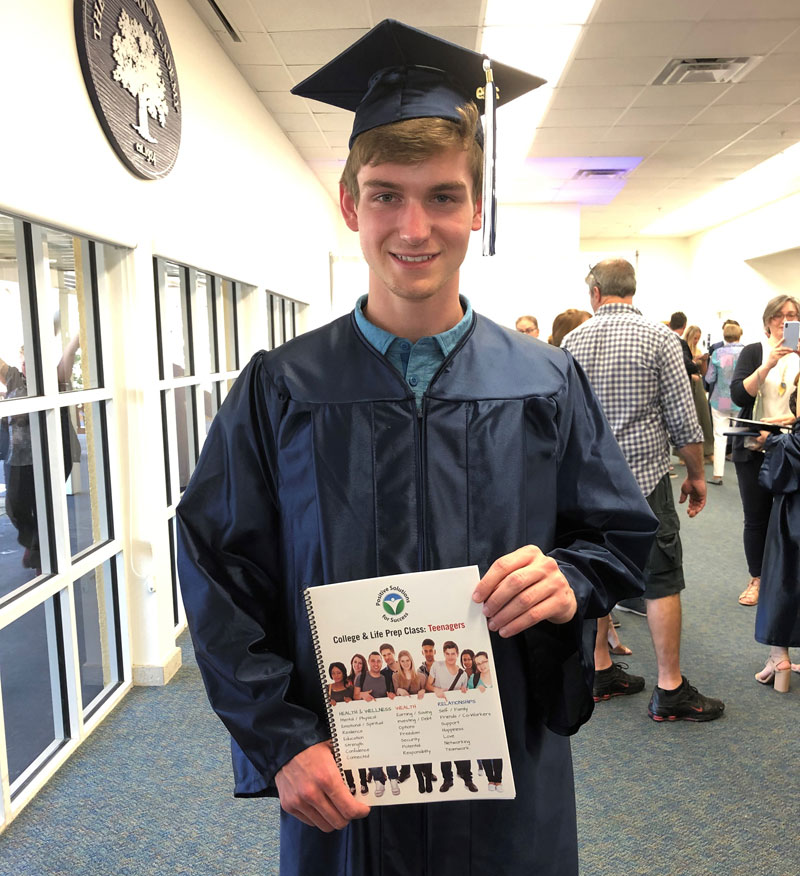 Self – Leadership
How to live a Positive Lifestyle
Organizational & Time Management Skills
Boosting Self-Confidence
Mental, Physical & Emotional Health & Wellness
Stress Management/Reduction Skills
Daily Rituals
Intro to Meditation
Exploring Your Opportunities
Conflict Resolution Skills- 5 Point Apology
Intro to Financial Planning
S.M.A.R.T. goals
Mission Statements
Visualization Exercises
Your Work Skills
How to Research Career Options
Preferred Work Environments
Create/Update Your Resume
Practice Mock Job Interviews
Participants will receive a Leadership & Life Skills Certificate from Positive Solutions for Success to add to their resume!
All online workshops are interactive and meet once per week for 90 minutes.
Each student will be required to complete 1 hour of homework per week and 12 hours of class time. Each student will receive a 60-page workbook.
Everyone is different, so no worries, this workshop customized to meet your unique needs. You will receive a workbook that will guide you carefully through each topic. After the 8-weeks you will have an enormous amount of helpful information, facts and strategies to implement throughout your life-time.
Life-time investment: $980.00
Check out what some our teens are saying about us.
Dominic's Testimonial - Remote via ZOOM, June 2020
Hoosac School, Hoosick Falls NY – Leadership, Life Skills and Career Counseling Class
In my experience with the Positive Solutions for Success program, I read and learned about how to live a positive lifestyle, manage finances, plan for the future, create a job resume, how to find the career that fits me, and how to maintain a positive relationship. Although, through all of those topics, we had homework for them. We were responsible to first, get a planner and write our daily schedule in it. Then we were told to complete sections of the book for homework, in the start of summertime. Doing schoolwork more than needed has always been something that bored me. However, Mrs. Larson explained to me how this is not homework to get an A in a class, rather a way to improve myself and get an A in life. I completely invested my time into the program and learned many ways to be a successful leader and person. I would definitely recommend this program to anyone looking to better themselves, physically, financially, and positively. It helped me to become more open to communication, and to be more organized and be excited about it. The planner has been a lifesaver and I have only had it for 2 weeks. I write down holidays, birthdays, special occasions, and scheduled appointments in there. Utilizing a daily planner has allowed me to become more independent of myself. I now schedule my own appointments and hockey lessons. I make plans with friends with ample amounts of time that suits both of us. The planner has really helped to organize my lifestyle, even more than it already is. Another very important tool I learned from this class is how to calm myself down during nerve-inducing events. I have been able to take 5 minutes to meditate and calm myself down before meetings with my boss, and even before oral surgery. Also, the financial skills I have learned in the class will help me to become more financially independent. I can now earn, save, invest, and spend wisely and correctly to help me make the most money I possibly can. The Positive Solutions for Success course has made me a man among boys in the world we live in today. I recommend this class to anyone that is looking to better themselves in any aspect of life, because this program will definitely help you with it. I plan to further the process of positive solutions for success throughout my entire life, as the next steps in the program are to reread and live the principles. The program truly allowed me to make my assets known to myself, this not only helped with my self-confidence in the workplace, but also the ability to utilize those acknowledged abilities in day to day life. I cannot demonstrate enough gratitude to show how appreciative I am of this marvelous program. All I can do is hope to see Mrs. Larson in person someday, to truly thank her properly for changing my life.
Ashley's Testimonial - Remote via ZOOM, June 2020
Hoosac School, Hoosick Falls NY – Leadership, Life Skills and Career Counseling Class
When I first received an email from Mrs. Klein and Mr. Foster about taking a leadership class, I honestly was not too excited. I had a closed off mindset about the class before it even began. However as soon as I joined class Monday, June 1st, it all changed. 
This class has opened my eyes to so many little things about myself that I can improve in order to have a better and fuller life.  Before I started this class, I often told people "I know, I know" and never opened up to hear what they were trying to tell me. Now I try my best to never say "I know" and listen to everything they are explaining.  I have found that it helps my relationships with others because I used to be the "know it all". This class has helped my relationships with my peers immensely. I have learned how to negotiate and resolve conflicts in a way that is healthy for all who are involved. I learned how to ask and receive feedback from others, and how to apply the criticisms in order to better myself which has not only helped me as a person, but also as an athlete.
Not only has this class helped me with my relationships but after taking this class, I have seen numerous improvements within myself. I have been able to build up my self-confidence, my mental wellness, physical wellness, emotional wellness, and spiritual wellness thanks to all of the tips and action steps I was given in class. This is the best I have felt about myself in a long time, and it all started with a change of my mindset. 
Overall, I would say that the most helpful thing about this class was the connection Mrs. Larson had with every one of us. She always made it known that she was there to help us or answer any questions we had not just about class, but life in general. Another helpful thing that I took away from this class was the importance of getting a planner. If Mrs. Larson had not told me to get a planner for this class, my schedule would be a complete mess. However, now that I have it I have never been so organized with my days, and it keeps me less stressed throughout the day. It's hard to pick out certain things that were helpful that I took away from this class because honestly, I found every little aspect to be helpful in its own way.
Sofia's Testimonial - Remote via ZOOM, June 2020
Hoosac School, Hoosick Falls NY – Leadership, Life Skills and Career Counseling Class
The Leadership and Life Skills course provided by Positive Solutions for Success has taught me many new things, and I definitely will use them in my life for now on. It is hard to choose only one thing I liked the most from the entire course experience, but the idea of taking care of your mental, spiritual, and physical health really opened my mind. Throughout the course, I learned how to be more organized, and to manage my time better what, without a doubt, makes me not only a better leader but also a better human. It makes me less stressed, more efficient, and it also makes me achieve more successful outcomes.
Besides, the entire idea of health and wellness, how to have a better lifestyle to manage your positive and negative feelings were important reminders for me. I always had problems with my self-confidence, and the skills that I learned regarding that, as celebrating my accomplishments and understanding myself better are already being effective in my life. I also loved to know more about meditation and the effects it has on our daily life. The meditation assigned to us was a great way to understand better the entire concept of involved on it. I did it with my family, and it had positive impacts on all of us.
Another point that was very interesting to me was the negotiation skills. I learned that the idea of negotiation being something big, only restricted to important situations, is not very accurate. I realized that "negotiation" itself is present daily, in small activities that we do in our own homes, I also learned that those skills can improve even relationships. The entire idea of financial wellness, S.M.A.R.T. Goals, looking for opportunities, and
visualization exercises also had positive impacts on my life, and I look forward to using them daily.
In conclusion, the course was more than a positive experience for me, and I am very thankful for the opportunity. I can assure that Positive Solutions for Succes made an impact on my life and that I look forward to seeing what is coming next with everything that I learned in the past two weeks!
For Parents:
Nothing in life is more important than the health and wellness of our family. That's why Positive Solutions for Success had designed a Total Wellness Workshop for families. We believe that living a life filled with love and gratitude is the key to positive relationships.
We will give you and your family the tools and structure that you need to experience healthy relationships, shared values and achieved goals. We all know that life can be very challenging at times and we want to show you how your family can literally get on the same page and work together as a team. We are here to help you to reduce stress and enrich the quality of your lives.
Each family member will receive a detailed workbook filled with tools, tips, and information. As a group, you will learn how to think, feel and act with a purpose. You will learn valuable tools that will help you navigate through all aspects of your family's life.