Teens and Families
For Teens:
Studies show that transitioning from a teenager to an adult that can thrive in this complex world requires more life skills than ever. To get the most from life and to be happy doing it, is not so simple. That's why we created Positive Solutions for Success.
Positive Solutions for Success teaches teenagers how to excel in school and throughout life. We provide interactive, online eLearning workshops to support teens as they transition from childhood to adulthood. Each student will be given a personalized workbook filled with tips, skills and action steps. Our live online classes prepare the youth of today for their unique future filled with achievement, inner strength and problem-solving techniques. Teens will discover what it means to be truly successful and thrive with confidence.
Our life skills program for teens and families teaches families healthy ways to cope with stress and how to overcome anxiety and depression. Students learn how to get ready for their next chapter in life, whether it is college, a new career or just about anything. Our program is extremely unique and groundbreaking in that we address each person's individual needs at the same time as we respect confidentiality.
Our sixty-page interactive workbook is filled out by each family member privately, yet the topics are discussed generally with the beneficial support of our group dynamic. Students can share as little or as much as they want. Regardless of the degree of verbal participation, all families will greatly benefit from learning about Self – Leadership, Life Skills and Total Wellness by attending our online workshop.
Throughout the workshop, families will:
build their self-esteem
strengthen their organizational skills
understand how to live a Positive Lifestyle
create a balanced approach to Total Wellness in all aspects of their life
learn how to be healthy in both their mind and body
feel more joy and gratitude
learn ways to achieve their financial goals
reduce conflicts and improve relationships with family, friends and others
Teens will also be shown the best process for researching career options while removing personal blocks and self – limiting beliefs.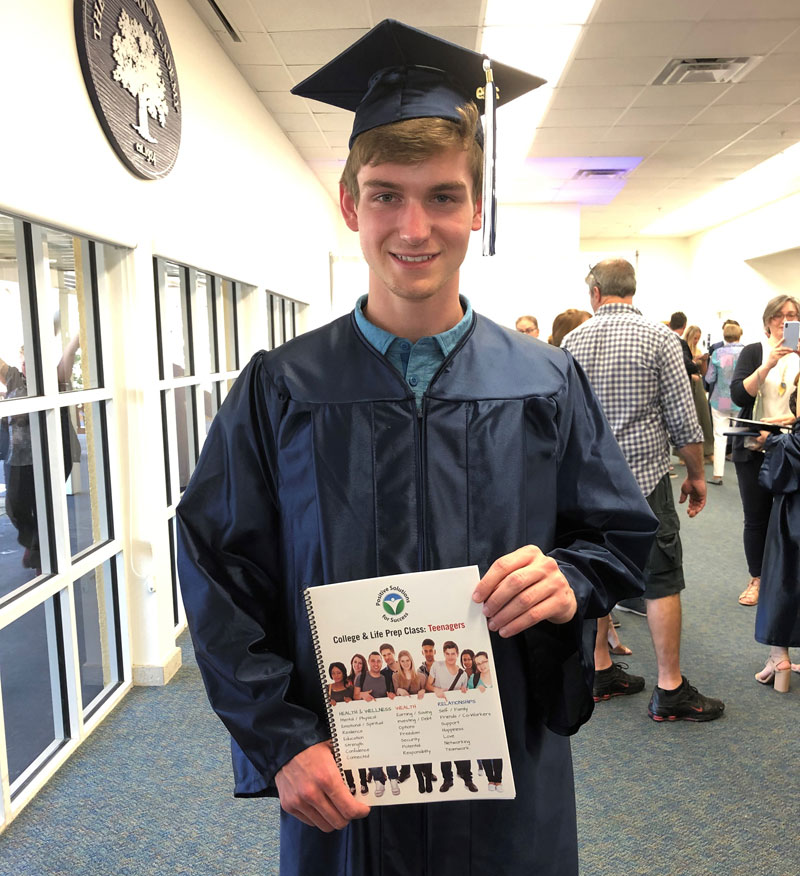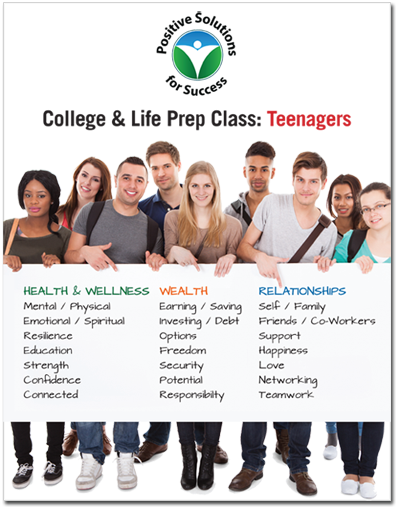 College and Life Prep Class for Teenagers
When college students are taught how navigate the stressful challenges of transitioning from childhood into adulthood, they will feel more empowered and prepared.
Here's the topics that we will cover in our 12-hour, 8-week online interactive workshop.
Self – Leadership
How to live a Positive Lifestyle
Organizational & Time Management Skills
Boosting Self-Confidence
Mental, Physical & Emotional Health & Wellness
Stress Management/Reduction Skills
Daily Rituals
Intro to Meditation
Exploring Your Opportunities
Conflict Resolution Skills- 5 Point Apology
Intro to Financial Planning
S.M.A.R.T. goals
Mission Statements
Visualization Exercises
Your Work Skills
How to Research Career Options
Preferred Work Environments
Create/Update Your Resume
Practice Mock Job Interviews
Participants will receive a Leadership & Life Skills Certificate from Positive Solutions for Success to add to their resume!
All online workshops are interactive and meet once per week for 90 minutes.
Each student will be required to complete 1 hour of homework per week and 12 hours of class time. Each student will receive a 60-page workbook.
Everyone is different, so no worries, this workshop customized to meet your unique needs. You will receive a workbook that will guide you carefully through each topic. After the 8-weeks you will have an enormous amount of helpful information, facts and strategies to implement throughout your life-time.
Life-time investment: $980.00
For Parents:
Nothing in life is more important than the health and wellness of our family. That's why Positive Solutions for Success had designed a Total Wellness Workshop for families. We believe that living a life filled with love and gratitude is the key to positive relationships.
We will give you and your family the tools and structure that you need to experience healthy relationships, shared values and achieved goals. We all know that life can be very challenging at times and we want to show you how your family can literally get on the same page and work together as a team. We are here to help you to reduce stress and enrich the quality of your lives.
Each family member will receive a detailed workbook filled with tools, tips, and information. As a group, you will learn how to think, feel and act with a purpose. You will learn valuable tools that will help you navigate through all aspects of your family's life.